Keto Chocolate Chips Baking Mix and Mold bundle
Regular price
Sale price
$38.00 AUD
Unit price
per
Sale
Sold out
DLC KETO Dark Chocolate chips baking mix
To make these chocolate chips, you need the Silicone chocolate chips moulds. It can be purchased separately in our website or in selected retail/online stores.
 Instructions:
Melt the cocoa butter in a small sauce pan over low to medium heat or in a microwave.

Put the dark chocolate chip mix into a mixing bowl.

Pour the melted cocoa butter into the mixing bowl.

Stir until the mixture smoothens and thoroughly combined together.

Spread the mixture onto the chocolate chip silicone moulds (2 silicone moulds). Use a spatula batter knife to spread them or use any flat knife.

Clean off any excess chocolate batter on the outside of the mould and put it back into the bowl for use on the 2nd mould.

Repeat the process in step 4 for the 2nd mould

Put both moulds in the freezer to set for 10 minutes

Remove chocolate chips from the moulds.

Enjoy! You can use them for cookies, brownies, cake or sprinkle them into your ice cream, or any dessert you fancy, or you can even eat them as snacks. Yummy!!!
May be present: Peanuts and Other Tree Nuts.
Made in Australia from at least 80% Australian ingredients.
========================
Chocolate Chips Mold (Twin Pack)
EASILY MAKE HOMEMADE CHOCOLATE CHIPS THAT LOOK REAL! - Now make dairy or sugar free chocolate chips for your cookies! Use our Chocolate Chips Baking mix and stay creative. Also perfect for mint, butterscotch, colourful chips. Even make PROTEIN mini gummies and much more!
FDA APPROVED SILICONE - 100% Food Grade. We use the highest grade silicone in these trays. Feel comfortable making your high quality treats with these premium grade molds!
234 CHOC CHIP CAVITIES ON 2 TRAYS - Simply pour the Chocolate Chips Mixture over tray and spread evenly filling the cavities, place in fridge.
SIZE - Each chip is 1.25cm X 1.25cm in width. Depth is approximately 9.4mm. The trays are 20cm x 20cm and stack easily for storage.
DISHWASHER SAFE or HIGH HEAT NO PROBLEM!
Ingredients
Organic Cocoa Butter, Cocoa Powder, Erythritol, Tapioca starch
Nutrition Information
Servings per Package: 10          
Serving size: 15g
 

Avg. PER  

 SERVE

 100gr

Energy

280 kJ

1870 kJ

Protein

0.9 g

5.7 g

Fat, Total

5.8 g

38.9 g

-Saturated

3.7 g

24.4 g

Carbohydrate

1.8 g

11.8 g

-Sugars

0.0 g

0.3 g

Sodium

12 mg

78 mg
Share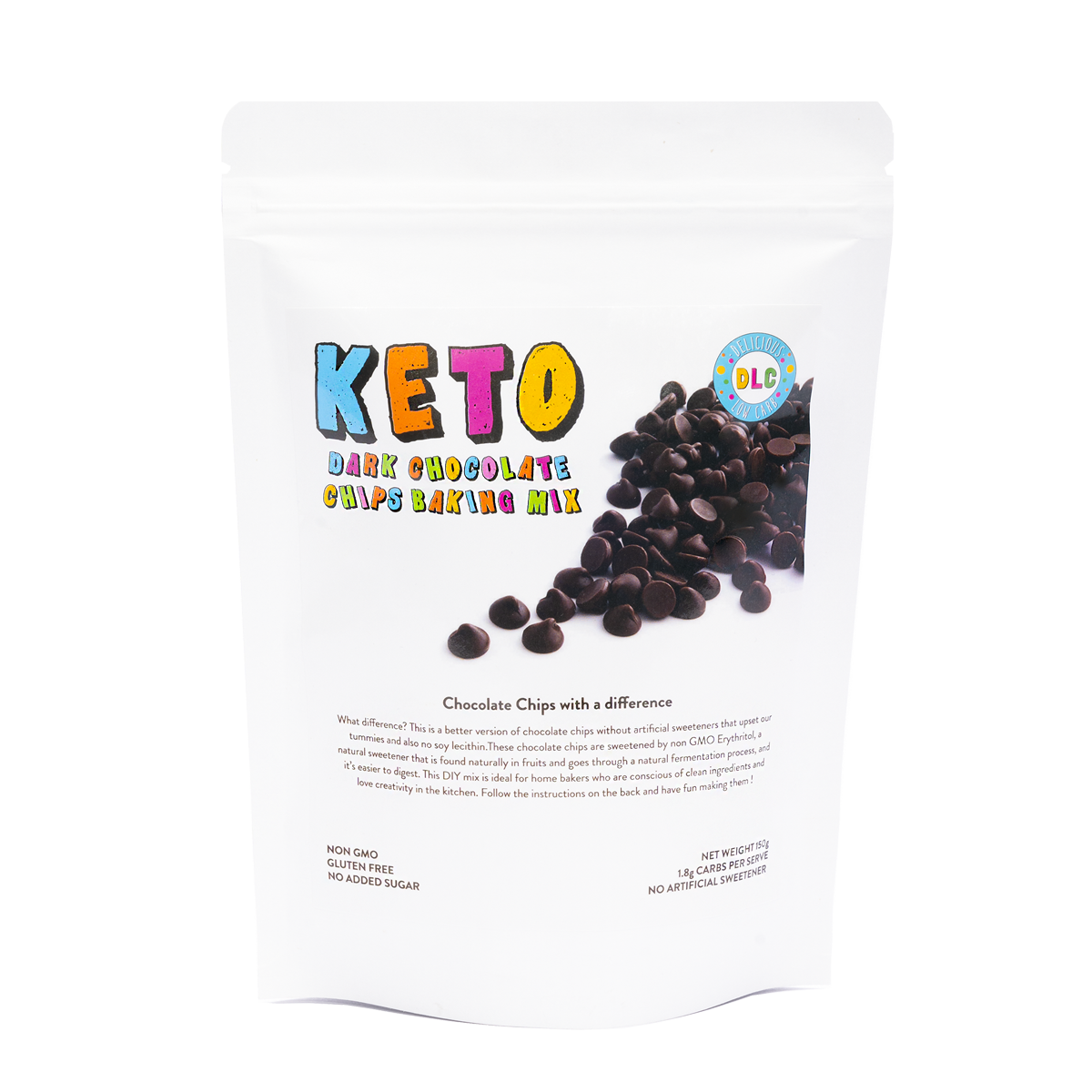 Free Shipping $99+

Free shipping Australia wide on orders over $99

Safe & Secure Checkout

Safe & Secure checkout with SSL security

Sugar Free

Keto friendly with no added sugars
Our Story
The story began when I felt really desperate to lose weight but it seemed every year I felt totally defeated. I ate the same food, the same portions, but my weight kept creeping up. That's when we finally discovered the KETO diet that changed our lives. On our Keto diet journey, we liked to experiment by baking or making lots of different snacks that are sugar free and healthy. Our son loves cookies, so we decided to focus on making yummy Keto cookies that tasted like real cookies. After several months of experimenting, we were finally able to create 3 flavour of cookies. All our cookies are a labour of love and made from premium ingredients that are nourishing to your body. We love supporting local farmers, so all our nuts are Australian nuts and our products are made in Australia. We will keep developing other products in the near future, so stay tuned and follow us on our Instagram or Facebook. Thank you for supporting this business and I won't be here without my loyal customers.
What People say About us
"Found these today in Top Ryde & I am OBSESSED! So I had to buy more online. Really nice to have a delicious diabetic option that tastes like an actual biscuit. I can't wait to see how popular your business gets, you have my full support. :) Thank you!"
Casey Skerlec
"These keto cookies are absolutely delicious! Made with satisfying texture, packed with flavors, gluten free and no sugar! Perfect for a guilt-free afternoon tea with a cuppa."
Ivy Chang